CARTRACT 2, vehicle mover with 2-wheel drive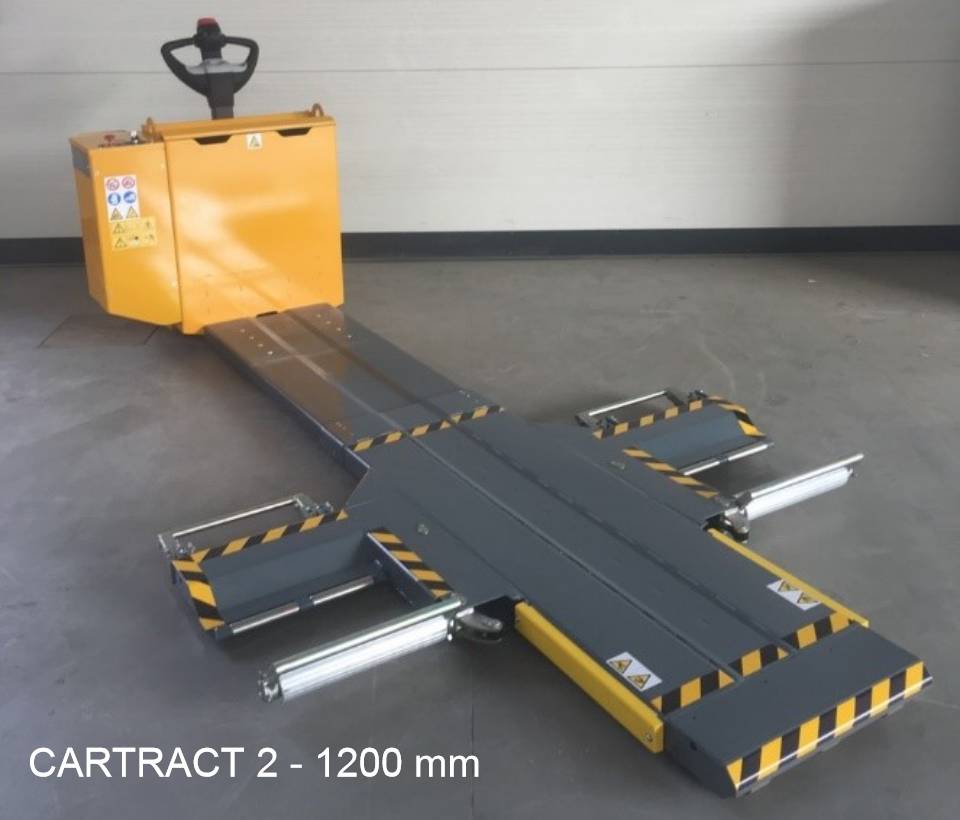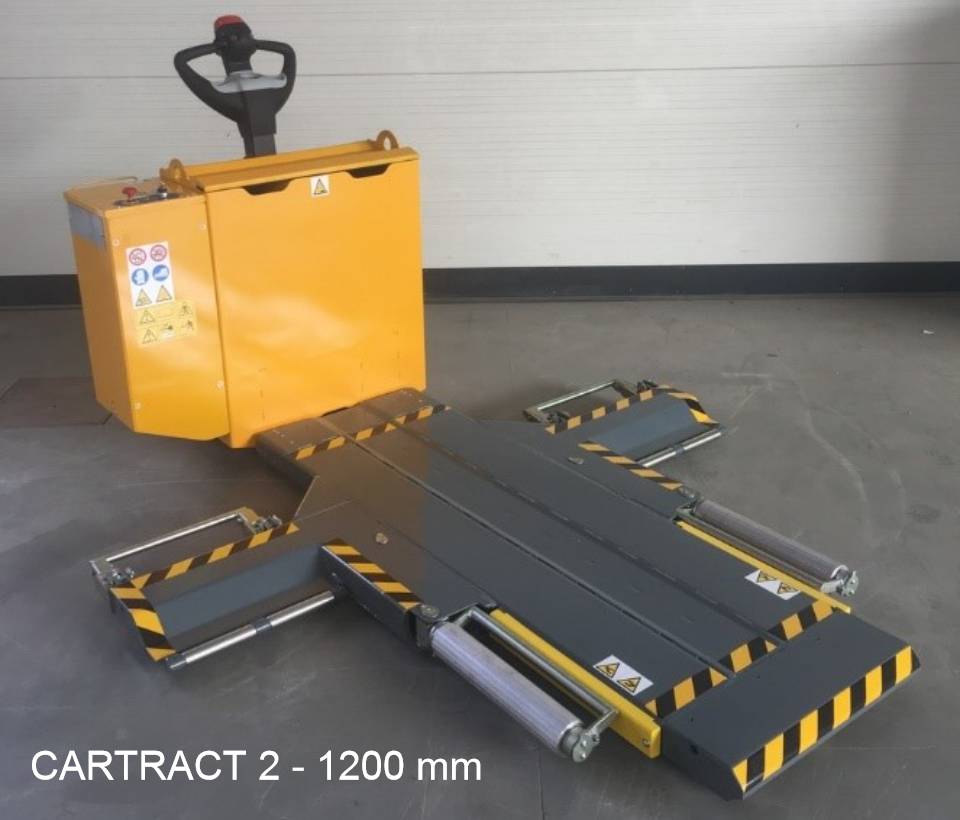 The CARTRACT 2 trolley has been designed in order to move all types of conventional vehicles up to 4000 kg and with an overhang of 2.20 m from the front or rear axle axis for the 1200 mm model (1.30 m for the 300 mm model, 1.60 m for the 600 mm model), on soils such as tarred parking lots, workshops with cement or resin floors.
The CARTRACT 2 trolley is made up of a variable frame depending on the wheelbase of the wheel sets, it is equipped with a hydraulic control actuating jacks for adjusting and locking the wheel sets.
The CARTRACT 2 trolley can be equipped with a conventional electric pallet truck or be equipped in the factory with an electric or thermal drive unit.
The operating principle requires sliding the whole of the trolley under the vehicle, from the front or the rear, to block the front or rear wheels of the vehicle depending on the grip by means of the hydraulic clamping block, then we adjust the carriage so that it is positioned under the wheel set.
Under these conditions, the vehicle can be moved forwards or backwards.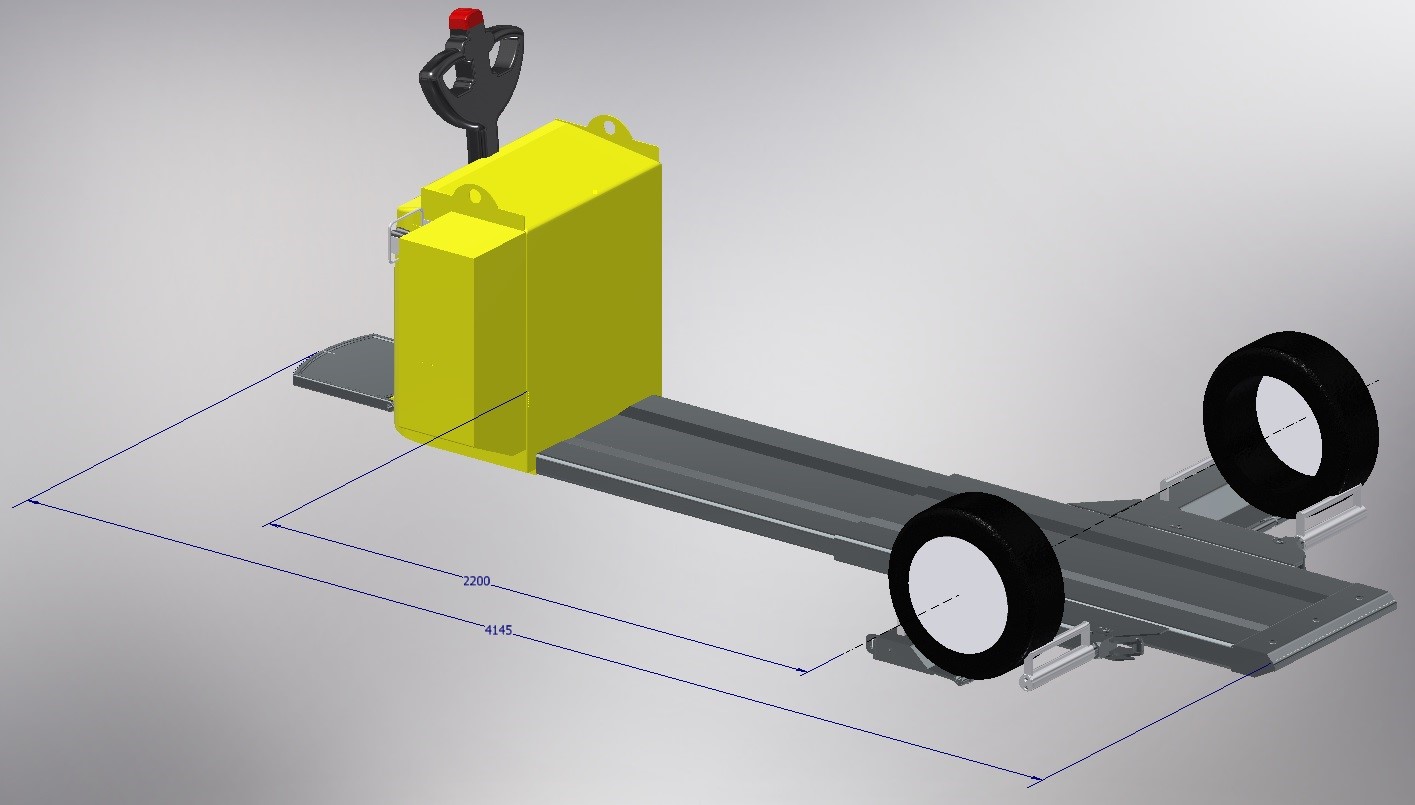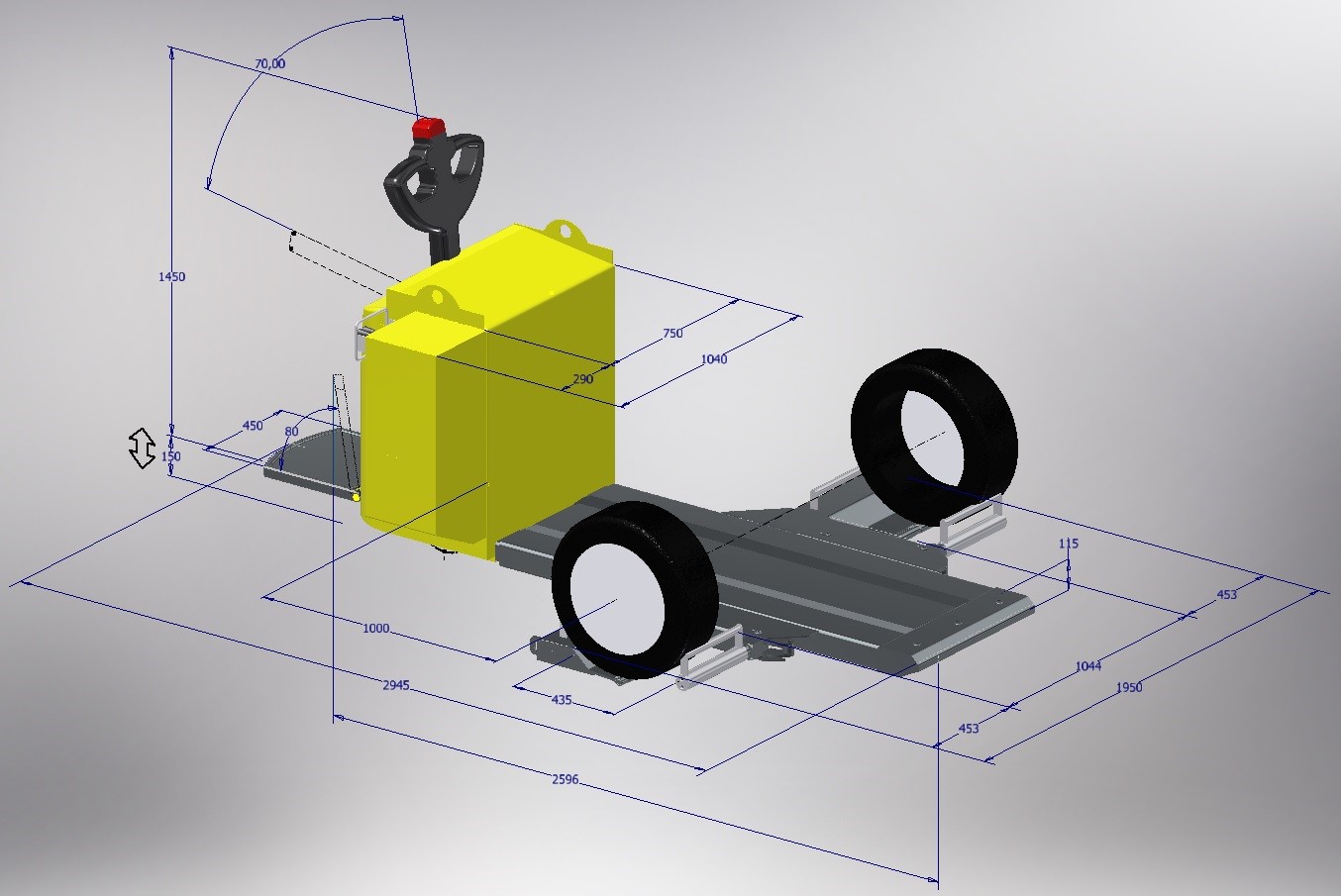 The advantages of the handling trolley CARTRACT 2
The CARTRACT 2 will be highly appreciated for moving any type of vehicle without any CO2 carbon monoxide emissions.
In business, the CARTRACT 2 does not affect the quality of the ambient air. It will be used in closed parking lots, garages, cars showroom, production lines, design studios, museums, demolition companies, by the police and forensic services, fleet managers of cars and in many areas.
The CARTRACT 2 has the ability to move a wide range of vehicles in very confined spaces with a small turning radius and in complete safety.
CARTRACT 2 significantly reduces the risk of personnel accidents and falls within the scope of ISO 14001.2015 standards for improving environmental performance.
The CARTRACT 2 can drive over hard but bumpy terrain unlike conventional auto pullers.
CARTRACT 2, three possibilities of extensions
We offer several extension solutions for the 300-600-1200 mm wheel pick-up platform.
The CARTRACT 2 model is available with 3 hydraulic chassis extensions possible, one of 300 mm, 600 mm and 1200 mm.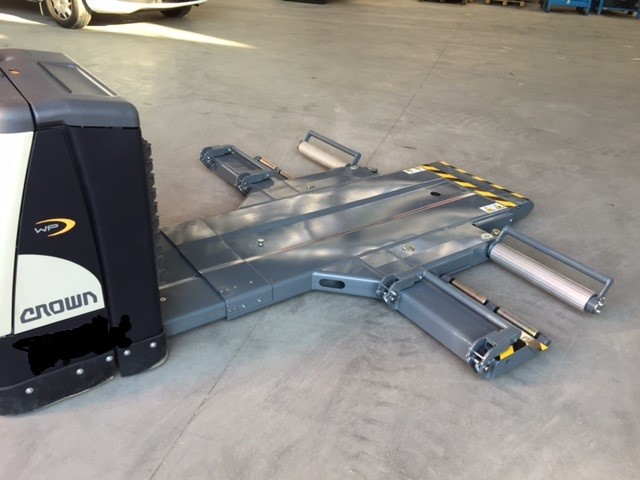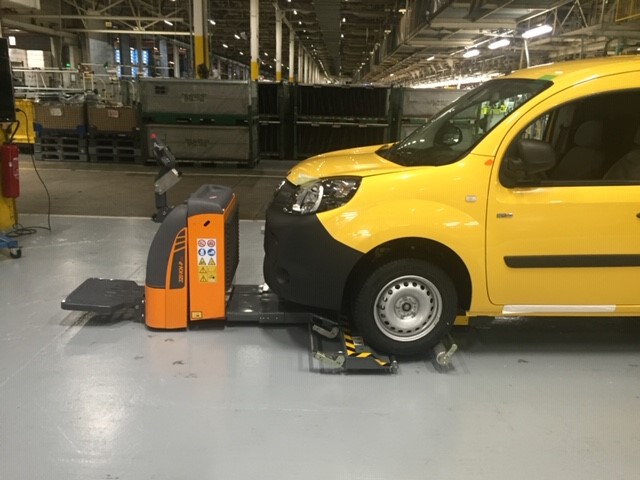 CARTRACT 2 in video
Detailed technical sheet CARTRACT 2
Technical characteristics
Dimensions
2600 (L) x 1950 (l) x 1450 (h) mm
Weight
835 kg
Maximum travel speed without load
6,0 km/h
Maximum slope
without load
10° (7%)
with load
0° (0%)
Load type
4 wheel vehicle
Vehicle socket system
1 axle
Characteristics of the towed vehicle
Axle weight
max
2000 kg
Vehicle weight
max
4000 kg
Axle width
max
1900 mm
Vehicle wheel size
min
500 mm
max
750 mm
Machine characteristics
Batteries
Voltage
24 V
Capacity
240 Ah
Traction
Type
Electric
Power
1,7 kW
Drive wheel size
250x80 mm
Material
Polyurethane
Brake
Electromagnetic
Stabilizer wheels
Quantity
2
Size
Ø100x50
Material
Polyurethane
Front swivel wheels
Quantity
3
Size
Ø80x65
Material
Polyurethane
Side swivel wheels
Quantity
2
Size
Ø70x70
Material
Polyurethane
Loading rollers
Quantity
4
Size
Ø35x170
Material
Steel
Hydraulic distributors
Type
Hydraulic levers
Quantity
2
Hydraulic unit
Power
2,2 kW
Max capacity
5 l/min
Max pressure
230 bar
Tank
6 lt
Noise emission EN12053
< 70dBA